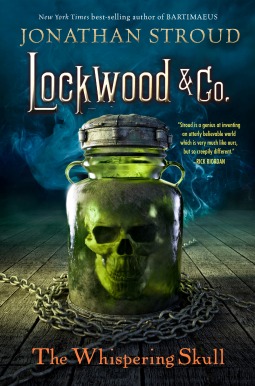 In the second installment of the Lockwood and Co. series, George, Lockwood, and Lucy are enjoying the success of their venture with the Screaming Staircase. However, though they have a steady number of contracts, the trio still isn't taken seriously by the rest of the ghost-hunting world. When the team stumbles upon a mysterious grave and artifact at a haunting site, George's curiosity is peaked. But, in his investigation, George awakens a malevolent spirit bent on revenge. Before the spirit completes its mission, the Lockwood team must stop the phantom and uncover the real mystery of the haunting.
I can't lie — I expected a lot more from the second Lockwood book. The first one was just so good! And, this one isn't bad, it just didn't live up to my hopes. To me, the plot read rather weakly, and I wanted much more from the mystery. However, while the story itself was lacking, there were some bright spots. Many of the characters are great — I especially liked Flo and the Whispering Skull. There are also plenty of scary/suspenseful scenes. If you liked the first Lockwood, give this one a try. You may love it!
Rating: 3/5
For full analysis (including flags and SPOILERS) click here.