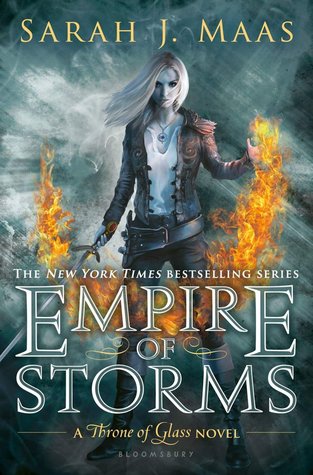 Though Aelin Galathynius has returned home to Terrasen, her people are not ready to accept her as queen. Meanwhile, the dark forces fueled by Erawan grow stronger. With the kingdoms surrounding her fracturing to pieces, and no willing allies to accept her royal claim, Aelin, again, fights against death to save her friends, family, and throne. Somehow, she must learn to harness the unquenchable fire within her and discover the meaning behind a centuries-old prophecy in order to save her kingdom and her life.
Wow! Another stunner in the Throne of Glass series. As with Queen of Shadows, this one starts out slow, but it really picks up. Look forward to the return of some amazing characters, crazy plot twists, and, of course, drama. The ending is yet another cliffhanger, and I, for one, can't wait to see how this series will end. As good as the book is, be warned that it is VERY YA. In a break from Maas' other books in the series, this one is appropriate only for high school grades and up.
Rating: 4.5/5
For full analysis (including flags and SPOILERS) click here.