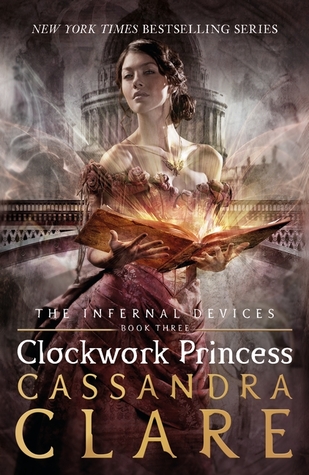 The final Infernal Devices installment finds the Shadowhunters of the London Institute once again up against the automaton forces of Mortmain. This time, Mortmain is closer than ever to achieving his demonic plans, for he finally has Tessa in his grasp. While Jem and Will scramble to rescue Tessa from her kidnapper, Charlotte struggles to keep control of the Institute. What follows are simultaneous races against time: Jem's against his mounting addiction, Will's mad search for Tessa, and Charlotte's battle of wits and reason with the Consul. In this epic finale, the Shadowhunters must prevail, or face annihilation.
Wow! What an ending! I've always liked this series because it is part Shadowhunters and part historical fiction, and the ending really wraps everything up nicely. I especially liked how this book picked up speed right away and never slowed down. If you loved the Mortal Instruments series, make sure to give this one a try — but I don't advise reading this one first. For thoughts about my feelings on the love triangle ending, check out the full analysis ;-).
Rating: 4.5/5
For full analysis (including flags and SPOILERS) click here.